Bard Dance: CLICK to take it with you.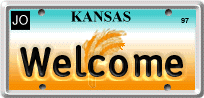 Meet The Family

The person behind this Web-Wackiness is moi, Ingrid; and web-addicted I am. I just got GeoPlus and have 18 meg to play with. I am in heaven! I even got myself a job on the net! (Pssst - Visit me because I need the traffic.) If you do, I'll give you this cute little cyberpet sheep who will dance all over your screen - watch for the diving, flaming sheep though<g> Just press this button below to download the zipped file (116kb).

I have been married to my husband, Tom (originally from Staten Island), for 24 years and we have a 20 year-old son named Jaime. We now live in Wichita, Kansas - whose name comes from the Kansa. We we used to live on Lake Winnipesaukee, NH, whose name comes from the Abenaki.
Yes, we just moved - packed up the bird, dog, complaining son, and headed southwest 1840 miles - to the Sunflower State.
Our son, Jaime, is a typical 20 year-old; the most important thing in his life is his Corvette and naturally, there is a photo of it on his page. Every dime he earns goes into that car. He is now attending Kansas State University.
The other two members of the household, who have their own entire sections, are the Avian Critter, Peso, and the new Canine Critter, Shiloh. Both shed and one screams. There is also a section on Arista, my precious 12-year-old GSD who died on Feb 9.
There are baby and childhood photos on the Olde Tyme Photo Gallery page and more recent ones on the individual pages. After all, "a picture is worth a thousand words"...or thereabouts...
I'm always adding to the Interests & Hobbies & Links, Oh My! Section -- sort of odds and ends, a collection of interests like The Planets, Herbal Lore, Holidays & Holiday graphics/fonts pages, XFiles, Quotations, and other stuff. All of it can be accessed from the Human Critters Page too.
A recent addition is feeding my Beanie habit - yup, I have gone over to the Beanies! I have amassed a little collection and I love the bears! Come visit the Beanie Critters.
Do take some time to visit my adopted wolf, Nakomis. Wolves are one of God's more beautiful creatures and they are near and dear to my heart. You will find a lot of photos and information at my wolf site: Wolves' Domain.
If you haven't picked up a tune to roam by, head back to the SiteGuide. I just added some great old classic tunes. Enjoy your stroll through my world of Critters :-)

Meet The Family
Olde Tymes | Ingrid | Thomas | Jaime
Human Critters Index || Interests & Hobbies & Links, Oh My!

Main SiteGuide
Avian Critter || Canine Critter || Human Critters
Beanie Critters || Wild Critters


background/hr/icon of sunflowers
by me
Papagei Studios