---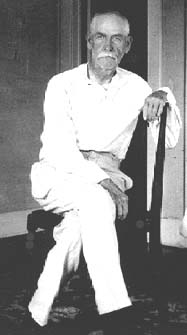 The Earp Boys
Born to Nicholas and Abigail Earp:
Newton Earp, born October 7, 1837.
Abigail died about 2 years later.

Born to Nicholas and Victoria Ann Earp:
James C. Earp, born June 28, 1841 in Kentucky; d. 1926.
Virgil W. Earp, born July 18, 1843 in Kentucky; d. 1906.
Wyatt Barry Stapp Earp, born March 19, 1848 in Monmouth, Illinois; d 1929.
Wyatt was named after his fathers commanding officer in the Illinois Mounted Volunteers.
Morgan Earp, born April 24, 1851 in Marion county, Iowa; d. 1882.
Warren Earp, born March 9, 1855 in Pella, Iowa; d 1900.


When Wyatt was 16 years old, his father decided it was time to move west. While Newton, James, and Virgil were fighting for the north, the other brothers joined their father on a wagon train he had organized from Omaha, Nebraska to San Berndino, California in the spring of 1864. On this trip, Wyatt picked up skills and traits like working with animal teams, stamina and physical strength, skill with firearms, and courage in the face of hardship.

In 1866 Wyatt was hired to drive freight for an outfit driving between San Bernadino and Salt Lake City, Utah. Two years later Wyatt went to work for a former employer, Charles Chrisman, in railroad construction. One of the few diversions for the rough and tumble workers was boxing matches between men within the camps. Wyatt, being over six feet and husky even at this young age in life, sometimes participated in the matches. He also was learning the skills of refereeing and promoting matches. Wyatt's all around experience would follow him the rest of his life. In 1870, Wyatt returned to Monmouth, Il, and married his first wife, Willa Southerland. Sadly, Willa died a few months later.

Through these years into the early 1870's, Wyatt was buffalo hunting, gambling, and generally drifting through the booming cowtowns of the west. On April 21, 1875, though, Wyatt joined the Wichita Police Department. In his years of duty, Wyatt's name was mentioned in paper reports six times. Newspapers, being then what they still are today, tended to embellish the stories to liven up the news. Thus, the very uneventful arrests of a horse thief and a team of ox thieves got the titles "An aristocratic Horse Thief", and "The Terrors and Temptations of Bull Whacking" in the Weekly Beacon.

In 1876, Wyatt moved to Dodge City, where the reputation he had gained as a lawman who meant business grew even larger. However, Wyatt was released from the police force in Wichita partly because of an accidental discharge of his gun, and because of ill feeling between him and the new mayor.

In Dodge city, Wyatt either met or rejoined his friend William Bartholomew "Bat" Masterson, a fellow lawman who also had a reputation as a man who could get the job done. When Bat quit the force, his position was filled by Morgan Earp, Wyatt's younger brother. Many exciting stories came out of Dodge City concerning Wyatt. Several told of capturing bloodthirsty bandits after a fierce gun battle, of the great chase of a gang of rustlers, of how Wyatt used his shooting skill to only wound an outlaw, or perhaps how he had no gun at all and yet talked some desperado into surrender.

By 1879, Wyatt thought that Dodge City was too tame, and he moved on to Las Vegas, NM, then on to California where he worked for a while as a Wells Fargo guard, and ended up in 1879 in the town of Tombstone, Arizona. Most of the Earp family had congregated there. On November 29 a caravan of them arrived in Tombstone, Arizona. This first group consisted of Wyatt and his second wife Mattie, James, his wife Bessy and their 16 year old daughter Hattie, and Virgil and his wife, Allie. Morgan would arrive in January 1880. They began buying real estate and businesses; Wyatt became a gambler and guard in the Oriental Saloon, and his brother Virgil became town marshal. Virgil Earp had moved to Tuscon and took the oath of Deputy United States Marshall in November 27, 1879. Later, Doc Holliday joined them.
By 1881 a feud had developed between the Earps and a gang led by Ike Clanton. The feud was resolved in the celebrated gunfight at the O.K. Corral (Oct. 26, 1881), pitting the Clanton gang against three Earp brothers (Virgil, Wyatt, and Morgan) and Doc Holliday. Three of the Clanton gang were killed, but Ike and another member escaped. The townspeople then discharged Virgil Earp, on suspicion that the gunning was murder rather than crime fighting.
In March 1882 Morgan Earp was killed by unknown assassins, and Wyatt, his brother Warren, and some friends subsequently killed at least two suspects. Wyatt was accused of murder, and he fled, moving first to Colorado, then to several boomtowns in the West, and eventually to California. He settled there, where he supported himself variously by police work, gambling, mining, and real-estate deals.
Wyatt Earp died in Los Angeles, California on January 13, 1929.
See also Wild Bill Hickok
~~~~~~~~~~~~~~~~~~~~~~~~~~~~~~~~~~~~~~~~~~
Where We Critters Live
Kansas || Wichita
Kaws || Wichitas || Plains Indians
The Infamous || Tornado!
~~~~~~~~~~~~~~~~~~~~~
New Hampshire || Lake Winnipesaukee
The Abenaki || Alton Bay
Main SiteGuide
Avian Critter || Canine Critter || Human Critters
Beanie Critters || Wild Critters
Interests & Hobbies & Links, Oh My!

~~~~~~~~~~~~~~~~~~~~~~~~~~~~~~~~~~~~~~~~~~
background by me
Papagei Studios